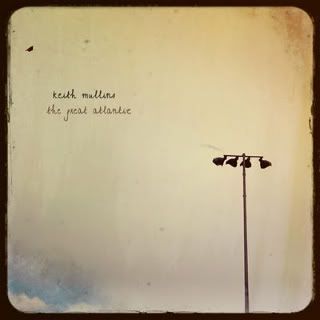 Keith Mullins
astounds with his debut solo CD,
The Great Atlantic
, released in February of 2010 on Keith Mullins Music. This disc contains more poetry than lyric and becomes instantaneously captivating and addictive.
The album begins with a rousing number entitled "Three Steps" which features vocals from
Noelie McDonnell
. Its bluegrass sound is as much a result of
Ryan Adams
's influence as David Clancy's lap steel.
People who aren't listening carefully to the lyrics of this song will mistakenly identify it as preachy or hyper-religious because of the repetition of the name "Jesus Christ," but in doing so, the listener will have missed the boat entirely and swindled himself out of an incredible listening experience.
The refrain of "Jesus Christ" doesn't indicate a holier-than-thou attitude but rather a religious cynicism: "If Jesus Christ can't save my life, well then who can? When Jesus Christ is no friend of mine, would you stand by me?" Clearly the narrator of the song is beginning to despair and wonder if that despair will further separate him from the ones he loves, a Catch-22.
The subsequent song, "Across the Ocean" reinforces this theory, with the line, "I have put my faith into these pills to cure my anxiety" - the theme of this disc is clearly one of loss and isolation. The song, however, employs a great camouflage in its large sound, the catchy, toe-tapping melody, and the carefree-sounding "la's." The giant drums (courtesy of Brian Caffrey) disguise any melancholy contained in the lyrics.
Another "religious" song, "In God's Heaven" is similarly cynical, written about the impending loss of a loved one from a difficult illness and reflecting on what the spiritual outcome will be ("When time comes to claim us, will I see you in God's Heaven?"). (Thankfully, the real-life outcome was a full recovery of the patient).
The piano, played by Mullins himself, is equally mournful and joyful in the gorgeous elegy "Not Strong in Me." The same goes for the backing vocals provided by Ciara Delaney on the heartbreakingly beautiful "This is Me, Walking Away."
Mullins proves himself to be a stellar songwriter and was gifted with a deep, reverberating voice with which to showcase his words.
Songs of loneliness and doubt are given a proper music spin, turning them into bright and cheerful tunes as evidenced on "Neil Armsong," "As I Walk You Home," and "No Hercules." The beautiful voice of Ms. Delaney joins Mullins again on "No Hercules" and turns this drum-and-fife sounding piece into a masterpiece.
It is difficult on a disc as impeccable as this to find a favorite song, but Mullins outdoes even himself with "Mistakes."
He closes out the CD with the hypnotizing instrumental "The Apple Song," a spirited tune that imparts the listener with a sense of hopefulness. The disc, although rife with sadness, is a joyful one.
Mullins, formerly the lead singer of Galway band
Pier Nineteen
, has shown that he is fully able to sustain a solo career with
The Great Atlantic
. With more remarkable work such as this on the horizon, his future is indeed bright.
The Great Atlantic
is available on
iTunes
,
Amazon MP3s
,
Napster
, and oher fine retailers.
You can also order it through his Official Website,
Keith Mullins Music
, where you can find links to follow him on all the social media sites.
BUYER BEWARE!
There is an American songwriter also called Keith Mullins who even has some identical song titles. Many of these music sites do not differentiate between the two, but rather lump their works together. Check to make sure you are buying the Galway, Ireland artist before you make the same mistake I did.