If you live under a rock like I do and you've never seen Rocky Horror Show before, then the
Evening Star Production
at
Infinite Abyss Theatre
directed by
Rosalie Grant
is the production to see. You will be marked a virgin (a red lipstick V on your forehead) and you will be "initiated" (don't worry, it was fun and no one bothers your bits) before the show can begin.
This production is a steampunk take on things, which means enviably beautiful costumes, especially Columbia (
Ireland Glennon
) and Magenta (
Cindy Thagard
) and cogwheel décor on the set (look at the gorgeous clock behind the couch!)
If there is a collective term to describe the cast, it's SEXY. Every actor exudes beauty and confidence and just draws you in to their den of iniquity.
I won't give up too much about the production details (even if you're not a Virgin, you should check out the staging for yourself), but listen carefully when Riff Raff (
Christian Cooper
) sings – it's beautiful. Pay close attention to Frank-n-Furter's (
Dominick J. Daniel
) entrance and first scene – he moves with the elegance of Eddie Izzard in his seriously hot boots. Don't be afraid to glance around at the other actors when one is speaking or you'll miss great little background details – especially when the action is on the screen. Don't miss the narrator's (
Seth Trucks
) time on the couch.
I will say that this show is NC-17 : NOT for kids or for the sexually feint at heart. If you're prudish, you might want to see a different show - this one gets raunchy, but it's tastefully handled.
Make sure you pick up a prop bag from concessions (no outside props are allowed, please). Don't worry, fellow Virgins – instructions on when to use the props are printed in your program. Better still, spend the extra $10 for the VIP seating and the prop bag is included, you get guaranteed front-row seating, and you will be allowed to dance the Time Warp onstage with the cast at the end of the show.
The Rocky Horror Show runs from May 12 – 28, with special midnight shows on the 14th and the 21st. Thursday, Friday & Saturday shows are at 8 PM. Tickets are $35 and $45 for VIP (limited to 14 a night!)
"Freaky, funky costumes and audience callbacks encouraged!"
The Abyss Stage & Studio, 2304 N Dixie Hwy, Wilton Manors, Florida 33305
Tickets available at the
eveningstarproductions.org
at
infinite-abyss.org
.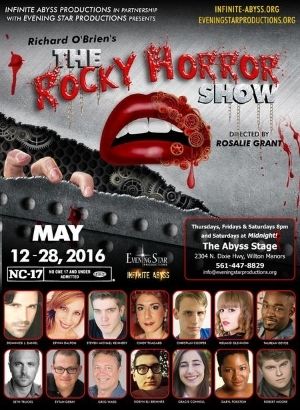 Graphic design by Murphy Hayes