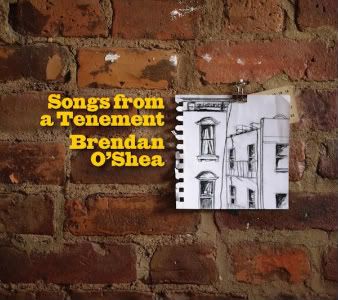 Anyone who has seen Brendan O'Shea perform live may have heard him talk about his apartment on Avenue A – a place of which he is clearly fond. Said abode has become the titular subject of Brendan's third studio album,
Songs from a Tenement
, released on November 28, 2010, through Hollow Moon Records.
The record release was celebrated at
Arlene's Grocery
, where Brendan performed all 10 songs from the new album with a full band and special guests.
Jenna Nicholls
sang on the night as well as on the album. She joins him in beautiful harmony on "This Town" and "Steps."
It is a haunting guitar that "sings" background vocals on "Bloodshot," whose chorus, "I believe in you" belies any thought that the album is a dark one; on the contrary, despite angst-ridden song titles, the album is brimming with light. It is obvious to the listener that Brendan is a man filled with faith. This faith is not so much a reflection on his religious beliefs – he sings, "
There are many among us here casting a Christian show
" – but rather an optimistic outlook.
From "Waiting Rooms" - "
all is not broken, we have woken up this time
," - to "Who Loves You Now" – "
it's taken me most of my life to find my way, to see the light
" – Brendan infuses this record with a sense of hope.
Even in the opening song, "Burning in the Fire," where his vocal notes trill indeed like little licks of flame, Brendan sings about "
broken-hearted people
" with a buoyancy suggesting an inner peace.
Brendan's lyrics are always subtle, never overstating. His strength is in his ability to evoke emotions with just his tones and his musical arrangement. His subdued, hypnotic voice in "Sunday Summer Parade" transports you into his musical photograph, and "One Star" sounds like driving fast down a stretch of open highway.
Brendan touches on this phenomenon of the merging of the physical with the musical when he sings "
she is a choir, a symphony
," on "The Way it Is" and "
the power is with the people, the carriers of song
" on "Who Loves You Now."
It's no surprise that such a faith-filled record should end with a song called "Grace." Quickly, though, we learn that this grace comes in the form of a woman, who Brendan assures, "
You are the one I have been waiting for all my life
."
When he sings, "
I'm happy just being alive
," we tend to believe him.
Songs from a Tenement
is available from
CD Baby
,
iTunes
, and
Amazon downloads
. You can also pick up a copy of the disc at any of Brendan's live shows which, if you are in the area, you shouldn't miss. Keep up with Brendan's goings-on at
brendanoshea.com
and hear samplings of his music on
Myspace
.
Coming up for Brendan:
MAY 13-14
MONTAUK MUSICFESTIVAL LONG ISLAND
AUG 5 – 9
RED LODGE [MUSIC FESTIVAL] BILLINGS MONTANA
AUG 13- 15
BUTTE MONTANA [IRISH FESTIVAL]
SEPT 20- 26
IRISH TOUR W/JENNA NICHOLLS DATES TBC
OCT 6 – NOV 9
GERMANY W/ TIM O'SHEA
Brendan is a member of
FairplayCollective
.