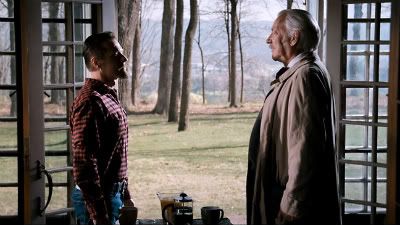 Man On the Train
, the remake of the 2002 French film
L'Homme du Train
, showed at Cinema Paradiso in downtown Fort Lauderdale on November 1, 2011, as part of the
Fort Lauderdale International Film Festival
.
The movie stars
Donald Sutherland
opposite
Larry Mullen, Jr.
, the titular "Man," in his film-acting debut.
Mullen, who joined the filmgoers from his home in Dublin via Skype, was awarded the Star on the Horizon award for his stellar performance.
The stoic "Man" – like "Guy" and "Girl" from
Once
, the character has no credited name – seems a role written expressly for Mullen, who is known for being strong and silent, a real no-nonsense kind of man. It was a treat to see him exercise his under-appreciated sharp wit into the humorous aspects of what is chiefly a dramatic role.
The storyline has Mullen's "Man" as a stranger who gets off the train in a small town and, while looking for a remedy for a migraine, has a chance encounter with a retired literature professor played beautifully by Sutherland.
Though fate brought the two of them together, the reluctant Mullen befriends the attention-starved, ebullient Sutherland. Sutherland does an excellent job of bringing the mousy professor to vibrant life, and there is much cinematic depiction of the characters' yin-yang, mirror reflection of one another.
It is soon revealed that Mullen has a secret, as all good drifters do: he has arrived in the sleepy town to perform a bank heist. Sutherland has a secret, too, and as the plot unfolds and the characters move to their appointed destinations, each man subtly influences the other.
The film will speak to the heart of any literature lover, of anyone who has wished to have a life different from one's own, of anyone who has desired the chance to make a fresh start.
Mullen, who is credited as a producer, also provides the original score for the film and
U2
fans will recognize his signature sound. Mullen's lifelong partner,
Ann Acheson
, is also credited as associate producer.
The beautiful, artsy film shot on location in Ontario, Canada, and directed by
Mary McGuckian
– she was the one who brought Mullen on board - almost didn't happen until an eleventh-hour phone call to associate producer
Alissa Allen
prompted
Jon Goodman Entertainment
to step in and fund the project, and what a fortunate call that was.
The film, which screened at the Cannes Film Festival in May 2011, will have a limited theatrical release but is available through
Amazon video-on-demand
. I recommend trying to see it on the big screen: additional screenings through FLIFF are
November 15
at
Amelia Island 7
and
January 22
at
Gamache Koger, St. Augustine
. It is showing as part of the Tribeca Film Festival's "TFF on the Road" program – dates still available are
November 12 and 13
in
Chicago
.