For those of you who don't speak Irish – which includes, for the most part, myself – "Ceol Mo Chroí" means "Music of My Heart." I can think of few artists closer to my heart than Alex Cuba.
Alex Cuba is a Cuban-born, Canada-based musician of extreme stellar proportions. Since hitting the music scene as a solo artist with the launch of his debut,
Humo de Tabaco
in 2004, he has won two Juno Awards for World Music Album of the Year and co-written an album with Nelly Furtado (on which he appears in the titular duet, "Mi Plan.") On November 11, he
accepted a Latin Grammy
for Best New Artist and on December 1, he was nominated for a Grammy for Best Latin Pop Album for the 53rd-Annual Grammy Awards in February 2011.
But accolades and achievements come secondary to Alex's musical integrity, and his shows are testaments to that devotion.
Alex played his 4th Miami show in two years on Saturday, December 4, 2010, at the newly-reborn Eve nightclub, which was formerly The White Room. A charming intimate venue, Eve is essentially a high-end tarp partially sheltering an alley between two buildings, giving you an industrial feel with an unobstructed view of the night sky. Located in downtown Miami's entertainment district, Eve is a conversational piece, but not a place for conversation.
Though the stage is small, the sound output by Alex and his band (David Marion on bass and Max Senitt on drums) was huge – so much so that any band video I tried to capture blew up the mic on my camera, and only two acoustic songs were salvageable.
Alex and his rocking band played their 14th and final show of their U.S. tour in Miami. The crew kicked off in Massachusetts on November 16 and covered 9 states in their tour bus, taking only 5 days "off" – driving through the east coastal States and venturing to Tennessee and Texas. But if Miami was the last of a long line, you'd never know it when the band took stage with the explosive "Vampiro."
In shows past, when Alex played Miami, he employed U.S. musicians on bass and drums, but Saturday night, Alex had his "Canada" band in full force and effect, and the camaraderie between the three was tangible, bringing this particular show to a whole new level of amazing. The band played a lot of songs from the latest album, the self-titled
Alex Cuba
, his third solo studio release. The crowd was filled with fans who knew all the words, singing along with Alex – and without him – and turning the audience pit into a dance floor. Everyone sang along equally well to his only track in English – so far – "If You Give Me Love."
The audience gyrated wildly to "Las Mujeres," an upbeat tribute to the power of the feminine (a track which is only available as a
digital download
), while the band gave it their all, comically collapsing together on the stage at the end of the song.
Cuba, whose collaboration with Nelly Furtado made headlines in September of 2009, has not wasted a single moment in getting back on the "Caballo" and was back in Miami writing in December of last year. He shared one of the collaborations, a lovely song called "
Locos Los Dos
" – about two people in a relationship which neither one should be in, by inviting his co-writer, Latin legend Luis Enrique, onstage to sing it with him.
Other outstanding moments included the brilliantly-written "De Camino" from his first album and a fast-paced medley of "Que Pasa Lola / En El Cielo." Alex's fingers moved a mile a minute as they belted out song after fantastic song.
David Marion did a beautiful job laying down the bass and the backing vocals, sounding as clear and spot-on as if the record was playing over the speakers. However, this band ran no tracks and every sound heard in that room – aside from the cheers and whistles – was produced by the three-piece band with the huge sound.
Huge is the only way to describe Max Senitt's drum intro to "Tierra Colora," a song written about Alex's home town of Artemisa, Cuba, where the ground is so red it stains your hands. This intro immediately followed his one-minute drum solo spent brutalizing his kit.
Alex gifted the insatiable crowd with a three-song encore with acoustic versions of "Agua del Pozo," during which he turned his guitar into a mandolin and "
Humo de Tabaco
" - the title songs of his first two discs.
He closed out his 90-minute set with a version of his duet with Jason Mraz – during which an audience member came up and sang the English parts. The band came back in for a strong finish. The audience roared for more, but there would only be one encore set – there were other bands waiting to take the stage.
Find out more about Alex Cuba on his
Official Website, alexcuba.com
,
MySpace
,
Official Facebook Page
, or follow him on Twitter:
@alexcuba
.
Make sure to check him out in a venue near you. You'll thank me.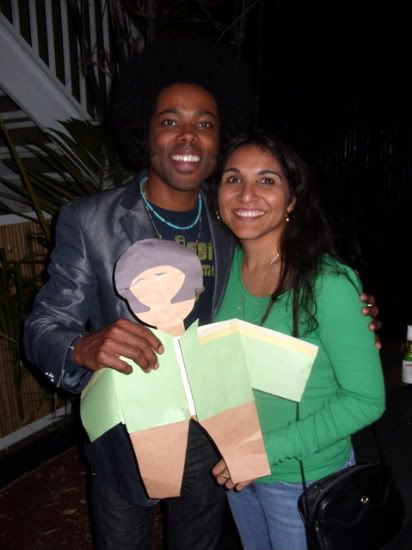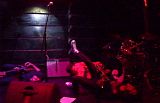 Discography:
Humo de Tabaco
, 2004
Agua del Pozo
, 2007
iTunes Live from SoHo
, 2009 (available as a
digital download
only)
Alex Cuba
, 2009
As Collaborator:
Mi Plan
by Nelly Furtado, 2010
Extra-album Singles:
"Arrepentido (Bad Timing)" (featuring Blue Rodeo)