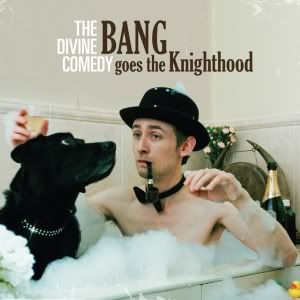 If you were interested in obtaining a copy of the limited edition of
The Divine Comedy
's
Bang Goes the Knighthood
, which is scheduled to release May 31, you'd better
act now.
The Limited CD includes the album plus a bonus disc featuring material from The Divine Comedy's now legendary shows at Cite de la Musique in 2008.

Neil was asked to cover his favourite French songs - in French. You can hear the results on this CD!

The tracklisting is still to be confirmed, but will be around 10 songs.

There will also be an extra booklet with more photos and some thoughts from Neil.
I'm very excitedly waiting for my copy. :)
Tomorrow, the 28th, Neil will be a guest on
The Laverne Show
(10am-1pm Ireland 5am-8am EST) and tomorrow night, Neil will be on the program
RTE's Arena
, airing 7:30-8:30pm IST, 2:30-3:30p EST. You can listen live online to both shows.
This Saturday, the 29th, Neil Hannon will be in-session with
Jonathan Ross
(10am IST, 5am EST) and then in-store at
Road Records
at 1pm for a pre-release gig.
Neil's been making numerous appearances on radio shows, and you can listen to some of the archives from the past week:
Across the Line with Rigsby -

4 days left to listen

. ("Across the Line," incidentally, is a spectacular show and you should listen to it even when Neil isn't on. If there were programs like this available in my car, I would still be a radio listener.)

(There are also reportedly some lovely videos of Neil here as pointed out by "Across the Line," - including one of Neil as a "wee chap" - but I have been foiled by geography and knighted: "Sir Not Available in Your Area")



Talking about how he wrote his first single "At the Indie Disco"> on The Guardian (Video) [And really, how can you not love a song that references both Morrissey and "Tainted Love"?]



The Word podcast, Episode 133.



Follow
@divinecomedyhq
on Twitter for the most up-to-date happenings!