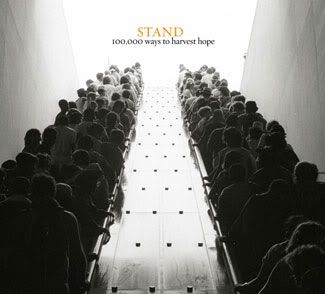 From the moment that the electric guitar kicks in on "Love Will Never Creep In," it is evident that
STAND
has put out a rock album. Carl Dowling's sonorous drums define this song and play a giant role in the giant sound of
100,000 Ways to Harvest Hope
, STAND's 5th official studio album. As it states in the CD sleeve, "these ten songs were recorded in nine days in June of 2009 in Buffalo, NY."
The first single, "The Living Kind" - from which the album title is derived - is a raucous roller coaster ride. They get more bang for their buck when both Alan Doyle (guitar and vocals) and Neil Eurelle (bass and vocals) employ a harmony so subtle it sounds like a melody by a fifth "supergroup" member.
Far from the misogyny sometimes associated with rock and roll, STAND demonstrates their love and respect to the women in their lives with reverent odes to "Olivia" and the unnamed "She."
"Nature My Mother" also pays respect to the feminine, speaking of environmental issues that are particularly relevant in light of events of January 2010 and as recent as 2 days prior to the record's release. The elegy is a lament for the abuse suffered to the planet and also a warning that earthly retribution is imminent.
The socially-conscious band shakes a collective finger at society in the sardonic "Generation Me." They don't hold themselves above contempt, though, with lines like "my thousand unknown Facebook friends / only serve my means to an end."
Fans looking for the signature STAND ballads will be appeased with the glowing coals of Doyle's voice on "Nature My Mother" and the acoustic "Stuck in My Shoes." Harmony vocals and Dowling's whispering drums take this song to a new level of beauty, while David Walsh's keys are the driving force in "Nature".
The final analysis reveals a well thought-out disc that runs through entirely too quickly. All that in nine days? Imagine what they might have achieved if they had taken longer.
100,000 Ways to Harvest Hope
was released on
March 1, 2010
, is now available worldwide on
iTunes
and all major music sites. Hard copies of the CD will be available in ALL major record stores in Ireland starting
Friday, March 5
.
STAND begins a promo tour of the northeastern U.S. on
March 12
in Pittsburgh, PA, and hits five states in 16 days, including a stop at
The Bowery Ballroom
in New York with
Roger Bryan and the Orphans
and new Meteor-award winners,
The Coronas.
Copyright © 2010 Natalie Herman and Paddy-Whacked Radio™
Originally posted at
Paddy-Whacked Radio™